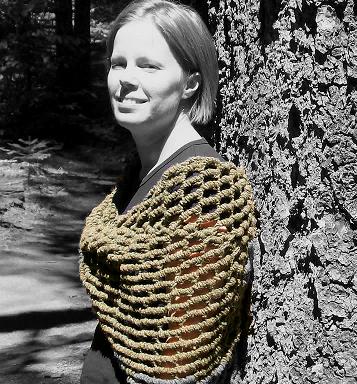 There are so many twists and turns that brought me to where I am now. Eight years ago when I left my job as a technical support representative at DRB Systems Inc., I wasn't even knitting let alone blogging or writing about it. The only thing on my mind was making the transition from working mom to stay at home mom. Then my husband gave me a little mad money, and my love of learning kicked in and I went out and found some thing new to learn about.. loom knitting. The rest is history, once I picked up a loom I was hooked, I started looming and then since there weren't really any resources out there at the time I started designing my own patterns.I decided to start this blog to document my efforts and discoveries in loom knitting, as there weren't any loom knitting blogs out there. I wanted to reach out to the loom knitting community and the needle knitting community and show them just what loom knitting was about.
Since I started this blog the loom knitting community has grown by leaps and bounds and has embraced blogging, and so many loomers are now blogging as well. This site has also grown a bit, and I plan to keep growing and changing to meet the needs of the loom knitting community better.
You all have been an inspiration to me. I can't go a day without seeing a loom knitter come up with something new, some new technique or design that is intriging. I love your comments and encoraging notes that you send, your input is just as important to me as anything else!
You continue to surprise, delight and challenge me as I work continuously to grow and expand the content of this site as well as the number of readers who enjoy what I write.
You all keep me on my toes, and I sure hope I am up to the challenge! In any case it sure is fun keeping up, and catching up with you all!
And now we pause for the usual 'About Page' Stuff….
Site author Denise Layman has been loom knitting for about 7 years now. She is the author of Learn to Knit on Circle Looms published by American School of Needlework. She is also the co-editor of Loom Knitters Circle, the only online magazine for loom knitters. Denise has a BS in Early Childhood Education, and uses that degree to home school her 4 children.
Denise is available to teach classes on loom knitting, locally and at other events so long as you feed her and give her a place to crash..She also looks forward to creating some online tutoring and class opportunities in the future.
Some links on this site are just for you to follow and enjoy. Others are ad links in which a little kick back might be earned. [ It's part of how I keep my sites financed and online!]
I use E-Junkie for all my pattern sales download needs! It's fast and easy!!!