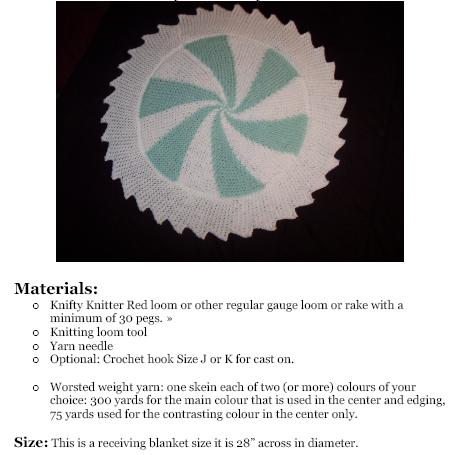 $3.50
Knit up this cozy and unusual baby blanket on your Knifty Knitter for the newest little one in your family. It's sure to take its place among the special and cherished textiles in your collection.
Use the pattern on a larger loom and knit yourself up a rag rug! Or knit it up on a smaller gauge loom and make a hot pad or placemat. This versitile pattern is a great way to stretch your skills and knit in new directions!
Errata: There is a slight error in the pattern. Row 12 is missing from the saw tooth edge chart. This row is simply a purl back row just like all the other even rows in the edging pattern. Simply purl back and then start the chart over again! I will be altering the pattern to reflect this as soon as possible! Sorry for any confusion this caused!