Well on Wednesday I head to Vegas. I am attending the Blog World Expo, with my hubby. He leaves on Tuesday. Seperate planes there AND back.. sigh. It ought to be interesting. Never flew by myself before!! Traveled by bus by myself once.. and that didn't go so hot! So look out for some travel tales!
So.. any nice knitting shops in Vegas?? SnB Vegas?? I know there is a loom knitter out there somewhere!!
It seems that I might just be the only knitblogger there representing. Wendy, Yarn Harlot, and Crazy Aunt Purl are all nominated for awards at PostieCon (the blog expo next door) But I know for sure Yarn Harlot isn't going and I suspect the other two are not going either..
So Stephanie said that is was all me.. hehehe  Go figure!
My blog expo knitting.. well hopefully I will get one of my infamous UFO's done before I go..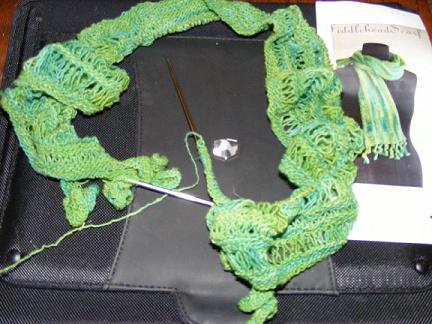 The Morehouse Merino Fiddlehead Scarf. I am halfway done and if I need to I will take it on the plane with me. Then I plan to have my November project for Elizabeth's year in hand for expo knitting..EZ' Moccasins..  that is if I end up with any time! We'll see!
I will definitely be 'in search of ' knit bloggers!
Tommorrow.. my house will be cleaner than it has EVER been since we moved in.. that'll be nice. Maybe I will give you a little video tour when the cleaning is done!! We'll see just how good these Sears guys are!