Friday was a good mail day for me!
I got my confirmation letter from the Western Reserve Knitting Guild for my registration to the 'Knitter's Fantasy' on April 1st! (yes Brian it is for real!)
This is a reward day off for me but I am still working on earning it up to the day. I have some goals for myself that I have to meet having to do with my knitting and some homeschooling goals as well.
Cheer me on! I want to go!! I got my classes of choice!!! Illusion knitting and an Aran Knitting class!!
I also got a little box of KnitPicks yarn from Jackie at Knit Daisy Knit!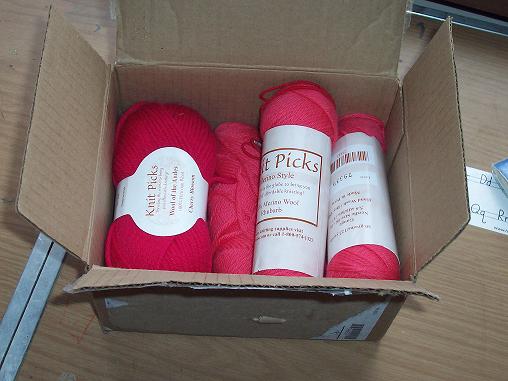 I thought it would make a nice little vest for Julian… but .. it's… well… pink! It looked alot more red on the monitor!! AH well I guess it will be turned into a little ruffled bag or something felted!
That's cool too!
Purls of hope update!
Tommorrow on CNN American Morning they will be airing their follow up to the original story about Pearlington, MS. It will probably be in the 8 o'clock hour, but could be any time between 6-10 am.
So keep an eye on it.. who knows you may see some of our knitting or care kits on there!!
Thanks to all who helped!
Sneek Peek 2!
Here is another sneek peek at the projects in the booklet!These are the original layout plans for two of the projects that are in the booklet.
One more week till it is released on sale!! I still haven't seen it myself and I forgot to ask how much it is selling for!! oops!:oops:
Coming soon:
A contest that all you KWONers will be really interested in.
A reader's gallery for photo's of your items made with patterns I have written, and booklet patterns!
For now..it's Monday so we are back at work!!
 
She still hasn't taken that hat off!!
Edited to add!!!
My new Lion Blog is up!! Loom out Loud  
So you can get Twice the looming action and information!!