Ok! I have shown you snipets of the swatches I made for the Knitting Olympics and now I would like to share a few up close an personal. Let you know how I translated them to loom speak from the needle pattern, and then analize the good points and bad points.* I will not be revealing all of them. Some of them will be reserved for future pattern designs.. a designer has to have some trade secrets! 
Let's start with something easy! I like this one!
Lattice
This stitch pattern can be found in many knitting stitch dictionaries and goes by the names of Lizard Lattice,and Pique Check amongst others I am sure..
It basically goes like this on needles:
Knit x rows in stockinette stitch (alternating rows of knit and purl)
Then you alternate knit and purl in varying amounts.. usually K(3-5)stitches,P(3-5)stitches across the row 
Then a row of purling
Then you repeat those to rows x number of times..
Then again x number of rows in stockingette stitch
Then you pretty much repeat the pattern rows but switch em. so you P(3-5) stitches then K (3-5) stitches across the row.
Then a row of purling
Then repeat those two rows x number of times..
Here's how I did it on a loom:
Start with a number of stitches that is a multiple of 6 + 3 (for example 24 +3=27 stitches)
Rows 1-4 knit.
Row 5 P3, *K3, P3* repeat from *to* till the end of the row
Row 6 knit
Rows 7-8 repeat rows 5 and 6 again.
Row 9 repeat row 5
Rows 10-13 knit
Row 14 k3 *P3,K3* repeat from *to* til the end of the row.
Row 15 knit
Row 16 repeat row 14
Row 17 Knit
Row 18 Repeat row 14
 Repeat these 18 rows until peice is the size you want and cast off loosly.
It's really an easy stitch pattern good for a scarf or other flat project. The back has a neat checkerboard effect so both sides are presentable. It could be used in the round as well but I don't know of any looms with the required number of pegs exept the adjustable ones so those would work!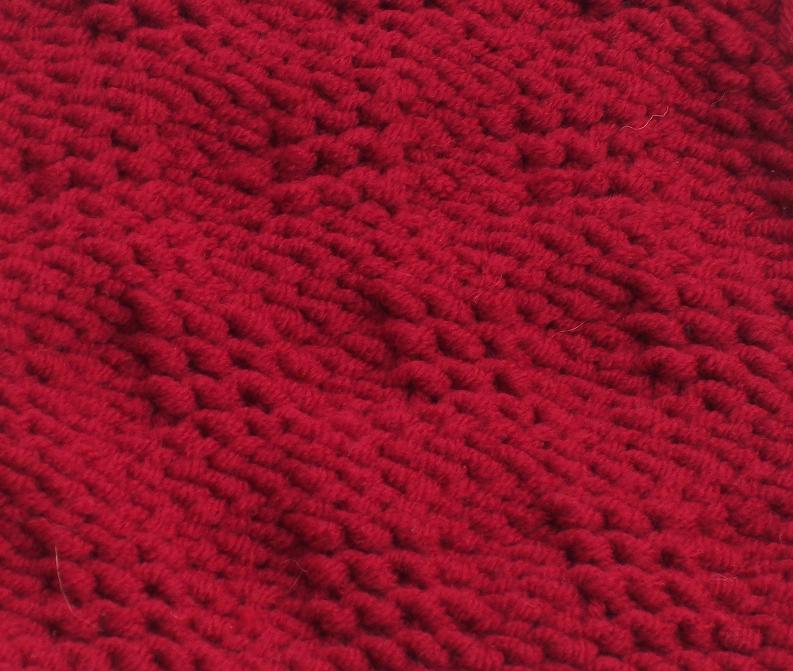 The back of the peice.
*I will also be putting some of these up on my Lion Blog as well, with a little twist in the writing dept. so you might see some double posts so to speak.. though they will not be identical!