Over at Five Minutes for Mom there is a contest to win a Dyson vacuum…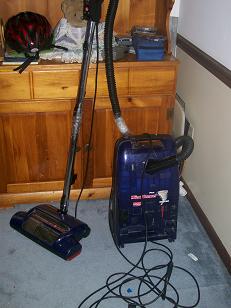 Please if you win.. consider this photo, and my 4 kids, 2 cats and a dog.. and have them send it to me! Please.. pretty pretty please! Or we could always arm wrestle for it! I mean really!!! Look at all that tape holding it together! And all my attachements have gone walkabout!
The good news is I went into my sons' room a few hours ago, and a couple garbage bags and a box or two later it's the most organised room in the house… the bad news is.. Yarn Harlot was in town.. and I was so busy cleaning I missed her! Stephanie!!! Still love ya!