I think it is time to drop the price on the Jiree cardigan/vest pattern. If you have been eyeing it up but don't like the price here you go!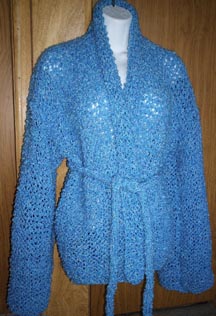 Click here to buy it now for $3.99

This pattern is written for infant, child and adult. When you purchace the pattern you will also be sent a custom sizing document that allows you to make the sweater for any adult size you should need. Custom fit it to you! The custom sizing is limited to a 22 inch length which should cover Any size up to even 3x!
It is made using the yellow Knifty Knitter and can be made on any large gauge loom or rake with at least 40 pegs.
Have a blessed Easter.. and I will see you all with some more knitting related posts on the flipside of the weekend!