I was just about to destash all of my sock yarn. Really I was.. I am just not into those tiny needles and the tiny yarn and all that. Then something happened.. maybe it was the weather maybe it was a lapse in judgement, but no really it was something I like to call the  Cat Bordhi Effect.
You see so far in my knitting life I have knit exactly three pairs of socks. One on the looms for my book, and two from Cat's book Socks Soar on Two needles. I have knit up single socks on the sock looms, partial socks on the sock looms but never ever a whole pair. I was ready to swear off socks all together, just ask Isela.. I told her that I was going to destash all my sock yarn and be done with it. That was up until last Monday.
Cat Bordhi was on Knitty Gritty, and she showed a totally new and different way to knit socks. A new and simple (why didn't I think of that) way of increasing, and I was hooked. I was soaring I knew I had to knit those socks! So I was motivated to really get my sample knit done so I could get at it!! And I did, and I did! (yes I said that twice on purpose sue me!)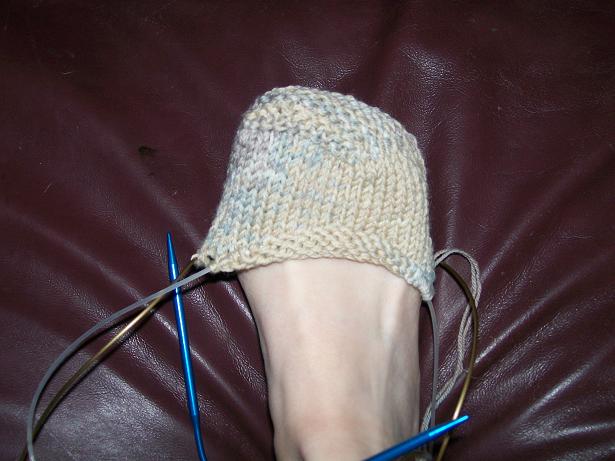 These are great and all sorts of loom and needle ideas are soaring through my head! So look out.
I can't believe I got three and a quarter inches worth of sock done in one day. Too cool. And even though I am going to rip it all out to re knit it a little smaller.. I am not sad at all.. it just means I get to do it all over again!!! Woo Hoo!!! Am I a process knitter or what?