This has been quite a pleasant day! The weather is perfect.. we have been enjoying the visit from my sister in law and her two boys.. I got a package with a bit of yarn in it, and my test knitter Sue is AWSOME!
Check this out! The Swing Jacket looks soo good on her! She started it on Monday and all she has left is the sleeves!
SUPER
FAST
KNIT!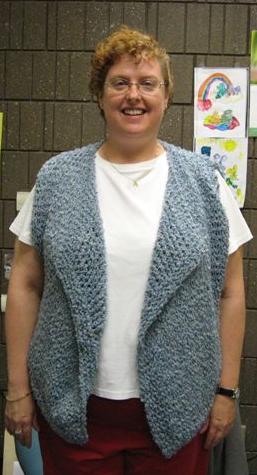 AWSOME!
I couldn't be more pleased. So after another once over, and adding some photos and diagrams tonight I should have this pattern out for you all tomorrow! And I will draw a name from my commenters on  Saturday's post for a kit which will  include the pattern and the yarn needed for them to make the jacket for themselves!! So there is still time to comment, and get in the drawing!!! I will probably draw a name around 9 am tomorrow so get your comment in by then if you want to win!
Plus I learned something new I want to try out on the looms! Totally fun!! Can't wait!