Ok this has nothing to do with knitting! I am working on the earflap thing see a little hat with earflaps!! It's coming it's just been a crazy two weeks and about to get crazier when Brian heads to Texas for 6 days!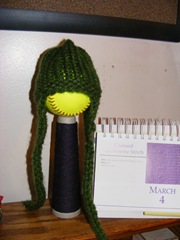 Anyway.. the answer is VOTE.. and keep your representatives on their toes.. I have been burning up the web zipping emails to my local candidates.. it's kinda fun picking their brains, calling them on things and just generally letting them know i am there.
So make your voice heard! If you are in one of the states having primaries today go out and vote! If you are in Ohio.. bring your umbrella!
Oh and Brian is headed up to Cleveland again tonight. He was up there for the debate, and ended up on the news as a commenter! He is at it again! This time he will be the embedded blogger in the actual counting room at the board of elections!
He will be live blogging at One Vote Matters tonight probably from like 7 p.m. EST till who knows when! Stop in and you can join in the conversation!
I for one will be home working on more earflap hat samples for that tutorial!!(Don't worry Brian I will have my laptop there too so I can join in!)