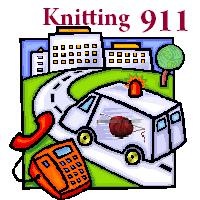 Hello there! I wanted to let you know the next episode of Knitting 911 will be taking place tomorrow March 30th at 5:30 EST
To join in on the fun click here: Knitting 911 Episode 4
And you might just want to join in on the fun! I am going to be giving away a couple of prizes.. first is a copy of my book Learn to Knit on Circle Looms. I will even sign it for ya!
The other prize is a copy of Knitter's Handy Guide to Yarn Requirements.
This is a great reference that you can pop into your knitting bag when you go out shopping for yarn for that next project!
To enter simply drop by during the show and either chat in the chat room or call in live!! (If you call in I will double your entries!) The phone number is on the site and will also be given during the live show!
So come on and join the fun and tell me what your favorite knitting reference book or web site is!