Hey why not? Let's make this Mother's WEEK!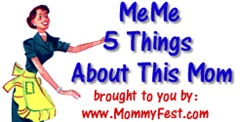 I have 4 kids, 4 cats, a dog, 2 fish and a husband.(he's my favourite pet)
I am totally disorganized, and totally ADD! (and I can't seem to figure out why!)
I teach my kids at home using the Ohio Virtual Academy, which is good because I am so disorganized!
On the side, I design and write patterns for knitting and loom knitting and now a bit of crochet. (I get around eh?)
I am the youngest, the oldest, and the middle child all at once.. and no I am not an only child.. figure that one out! I dare ya! (wonder what the birth order experts would make of that!)
And if you are on Twitter you can follow me!
Ok then! 4 days to Hawaii.. gotta go get some more stuff knocked off my to do list!