That is quite a title eh? Well the Columbus convention center was quite a melting pot on Saturday! It was fun to see people from the MidWest Haunters Association in scary masks walking the halls carrying bloody axes.. I thought about asking someone for some fake blood to put on my knitting needles.. too bad I wasn't wearing one of Franklin's t shirts..
In any case once I got over the 'culture shock' I enjoyed it!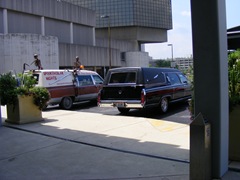 I took an all day class with Cat Bordhi! It was neat. It was fun. I don't really know why I brought yarn with me! It was a class on generating ideas for knitting and design. So not much actual knitting went on! Cat did teach a few nice tidbits in there. Like an ingenious method for making a SSK neaten up! I believe it will be in her next book.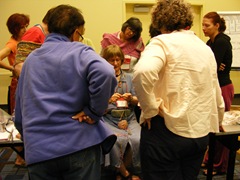 I really liked the class and might be asking you all some crazy weird questions to get the juices flowing for some design projects this summer. So watch out!
The market was pretty nice. I only bought one pattern there, ironically a pattern by Anne a knitter who I occasionally rub elbows with at my LYS Yarnia! Yeah..
But I did get to meet Gerald a.k.a. KnittingBrow!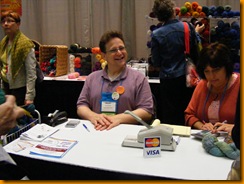 We have had fun talking back and forth on Twitter and it was nice to meet him! He works for Knitter's Mercantile, who were the main sponsor for the event. Knitter's Merc had some BEAUTIFUL kits there!! I would have loved to snap one or two up but I need to get through some projects I have lined up here first! So Gerald is going to keep me in line a bit by bugging me on Twitter!
All in all it was a great day. I got some good ideas, I learned a couple useful techniques and I even got to show off some loom knitting to Cat Bordhi.. who found it quite intriguing. (I think…)