I finished the triangulation hat! It's not quite what I wanted though, but not bad!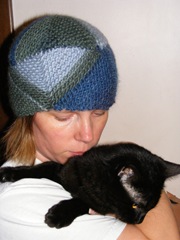 It has one seam, the top is seamed to the brim. I had wanted it to be seamless so I am going to have to go about it a different way. It will take a bit of thinking time so I started a new modular project.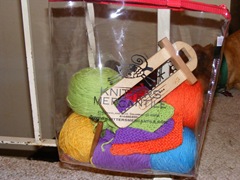 This one is fun and colorful, and stash busting! I can't tell you how long this batch of Casscade 220 has been in my stash, but here it goes!! A pretty, bright , rainbow of yarn!
I am also loving this bag I got at Knitter's Connection! My little Knitters Mercantile bag! Very very useful as a current project bag!
I might ask for help on this one, so far I have just been getting Brian to help! I will ask him, "What color?" and he will choose one.. but soon I will need to ask for two colors! OOH yeah. So if I pop up on IM, or email you to ask you to choose two colors; get right back to me so I can cast on the next square!!
Well, we are back up to our full compliment of children now that Jaxom is home from camp.They Just opened their package from Grandma which had three super cool spring action light up light sabers in it. for the boys, and gifts for Brian and Azia too…so it's a nice excited noisy bed time!