Last week we went to the library. We picked up some books for the kids and while I was wandering around I picked up two crochet books. The first one I picked up for Azia: Kids Crochet: Projects for Kids of All Ages
by Kelli Ronci. It's a great book! The instructions are well written and the photos and illustrations are clear and precise!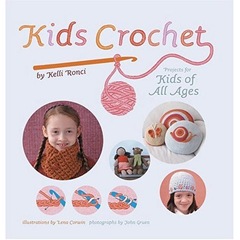 Azia has been doodling around with the crochet hook, contently making little things for her dolls. When she is ready to try something else she picks up the book and looks and sees what else there is to learn!
So if you are hearing that same old tune.. I'm bored.. pick up a copy of this book, a little yarn and a hook and let em at it! (or go browse the library for some more books that might do!)
The second book I picked up for me! Stitch 'N Bitch Crochet: The Happy Hooker
by Debbie Stoller is pretty nice. Like her knitting book it has a large instructional section at the beginning. The patterns are really nice, hip modern and seem like they are laid out pretty well. Right now I am working on another project so I will have to take this one out again some time to really dig into it. It 's definitely worth a second look!!