Well, I spent a whole week down south of the Mason-Dixon line, and wouldn't you know it.. I didn't eat a crumb of southern cooking!
Sigh. Enter Georgia Cooking in an Oklahoma Kitchen: Recipes from My Family to Yours
by Trisha Yearwood (yes THE Trisha Yearwood.. who knew?) Well, ok while this book has a great southern sounding title, and some southern standards like fried okra, and collard greens and all, to me, it all sounds like good eats!!
This cookbook is chock full of delicious sounding recipes. There is not one that I would hesitate to try. The recipes are written in plain, easy to understand language, that should make even the most trepidatious cook feel safe!
The fun thing about this cookbook is that it is a family affair.. from the forward by Garth Brooks, to the many recipes contributed by Ms. Yearwood's family, you can just feel the love oozing out of the kitchen and onto the plate! I think that it's true what they say, the best cooking, is the cooking done with love.
And in case you hadn't heard…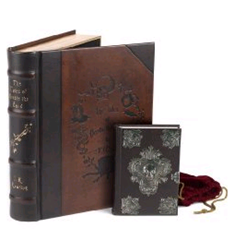 The Tales of Beedle the Bard
by J.K. Rowling is up for pre-order! This didn't cause ANY stir in my house today..amongst some certain reader…