On a day I feel unrepresented, it's nice to see that DA Looms always represents what I want as a loom knitter to improve my craft!
After much trial and error, they have come out with a new sock loom that is worthy of great notice!
The wonder sock loom: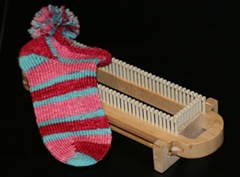 I have a mini wonder loom, and it has been my go to loom for some time now. Small and portable enough to toss in my purse, makes as convenient as needles! This new sock loom looks like it will be just as good!!
I think… I am going to have to get myself one!
Pop on over to the DA Looms site and check out the details.. including a coupon code for a sale on this very loom, and tell em I send ya!