Most of my e-newsletters that I get from the yarn companies arrive in my email on Fridays! So I thought I would tell you about my favorites..
Let's start out with the Berroco Newsletter. Theirs is definitely a favorite and among all the newsletters it is quite unique!

They, of course, have the usual things: new yarn information, new booklets and other news. Free patterns, and what sets them aside from the others is their audio slide shows.
Most weeks they take the reader on a little tour of one of their latest booklets. Showing the designs and talking about the stories that go along with them. Sometimes they give a little inside peek into the design process and what goes into making this all happen! It's quite interesting and fun! I enjoy it at least!
I especially enjoy the reports they give when they come back from the big fashion trend show every year in Italy!
If you haven't signed up for their newsletter you can do it here. And hey.. they give away a sweater kit every month to a newsletter reader so why not sign up!
Another must read for me is the Lion Brand Newsletter. Actually they have two.. I'll get to the other one in a moment..
The main newsletter is again your typical newsletter, telling about new yarns and products that are available. They always have a kit of the week on sale in their online store, and a knit or crochet stitch of the week. Right now they are going through borders. Many weeks they have a new Lola Cartoon and on occasion they have some printables or online cards that you can send to friends.
There is also an update letting you know what will be on Lion Brand's weekly podcast, Yarn Craft. All in all not a bad little newsletter for keeping up with the goings on at Lion Brand. You can sign up here, to receive it.
The other newsletter Lion Brand puts out is a Kids for Kids style newsletter. With great yarn crafts information and simple projects for kids! If you have a crafty child, grandchild, niece or nephew you will want to sign up for that one!
The next newsletter I receive is the Coates and Clark newsletter.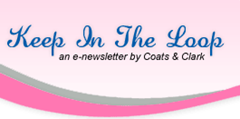 Now their newsletter covers alot! As they carry items for knitting crochet, sewing, and quilting etc. So it's nice to see the trends in other areas of craft as well!
And I like their newsletter title.. Keep In The Loop.. it's fitting. Another item they offer is a little update on upcoming shows, the when and where of what is happening. it's good to know! You can sign up for their newsletter here.
I'll come back again with some of the other newsletters I receive.. you know.. just to keep you all in the know! I don't want to overwhelm you after all! There are at least.. 5? more!