Now with a weekend like I had I am reporting after the fact.. but I will still have a blog post for every day!!
Saturday brought a trip to Pennsylvania for a baby shower! So I got to see my beautiful sister in law for a bit!!
And we got to hang out with my wonderful mother in law  (yep get jealous.. I got a good one) and the world's cutest nephews! Yep! Brian came along too with the boys, but they were shoo'ed away (don't worry we gave em' cake if they wanted it!)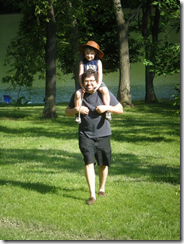 After my one nephew was feeling better (yep we had a sick one for a while) we all went to Red Lobster and had a great meal together. There is always loads of fun when you take 7 kids to a restaurant.. though.. I guess only the 4 little boys count in that category officially at this point! 
I can't wait to meet my little niece I am knitting for her of course! I get to knit some more cute little girl stuff!! Woot!!