At least in knitting trends it is!
Everywhere I look BIG yarns are big this year! Which is a boon for us loom knitters as many of our looms handle super bulky yarns very well!
There are many new big bulky yarns out this season to full fill your need to go with this trend and they are quite nice! I have had the opportunity to handle a few of them.
One isin the new Martha Stewart line:
Lofty Wool Blend this one is a nice bulky yarn which is soft.. but not too soft. It would be great for hats and other accessories. It measures out at 26 yards a ball so count on buying at least two or more to make any projects. It's quite nice and I have a couple balls of it that I am going to knit up in the next week. So look for those items soon!
Another of the big yarns out this season is Link by Berocco . This yarn is BIG! It's a chainette yarn so it's like knitting with big I –cord! There are some nice patterns with it and measuring in at 32 yards you get a teensy bit more than Lofty Wool. There is a nice pattern for a short scarf that only takes up one ball, and I am sure you could use it for either yarn!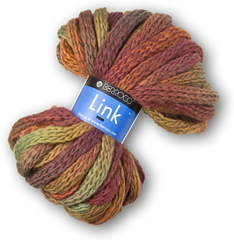 Being a big Malabrigo fan (even before I found out my brother was going to Uruguay to do mission work) I am also excited to learn that they have a super bulky offering in Rasta! Loove their yarns they are super soft and beautiful!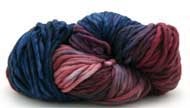 Isn't it pretty?!!
Of course recently when walking through Joann's I have seen some SUPER bulky fleecy type yarns among others. I was in a bit of a rush so I couldn't investigate but hey that just gives you an excuse to go to the yarn store!
So embrace the bulky nature of our knitting looms this season and go for it!  Cant wait to see what you make!