I have these looms that I would like to find new homes for. They are simply sitting around here getting dusty. Don't worry, it may look like a lot of looms, but I still have my favorites!
Have a look, make an offer, and I will get back to you!
Thanks for helping me with my spring cleaning!!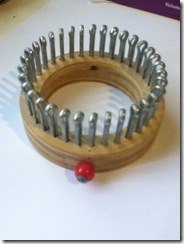 DA Looms, 34 pegs, pegs are 1/4 inch apart. Make me an offer! Add $3 for shipping in U.S.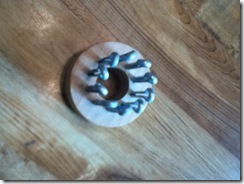 DA Looms Thumb/mini sock loom, the pegs are 1/4 inch apart.
Would go great with the above loom for making mittens.
$4 includes shipping!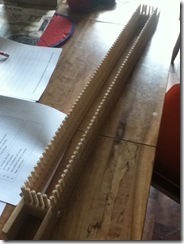 Markman Farm Loom, adjustable. 144 pegs. 68 on long sides, 4 on adjustable sides. Add $10 for shipping.
(retails around $50)   SOLD!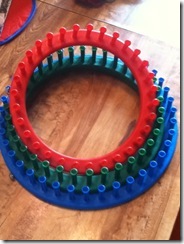 In the Attic Loom set
Adult large, and small hat looms and youth hat loom. These are the nice flexible ones! (I have the tool around if I can dig it up, no promises!)
(I could not find these for sale anywhere to get a retail price!)
Make me an offer!! add $5 for shipping!  SOLD!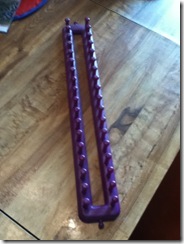 Knifty Knitter Large Gauge Knitting board.
Make me an offer!
Add $4 for shipping.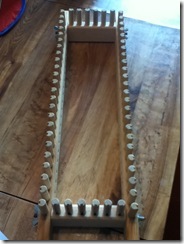 Markman Loom
Adjustable loom large  gauge. This one is great for placemats, rugs, hats made with chunky yarns!
There are 60 pegs total, 24 on each long side and 6 on each adjustable end. I have the loom tool for this one (probably two tools if I look)
Pegs are 3/4 from center to center, and the pegs themselves are 1/4 inch in diameter.
Please make me a offer, and add $9 for shipping!  SOLD!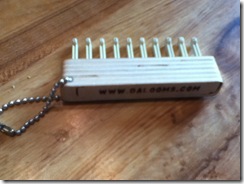 DA Looms little fine gauge loom keychain!
$5
Includes shipping!    SOLD!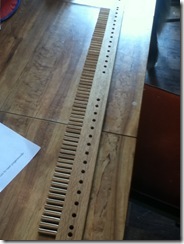 This is a lonely side from a Markman Adjustable loom. I broke the other side, when our couch landed on it!
It is the nice maple base with the pine pegs. It has 68 pegs they are 3/8 inch spacing. The base board is 30 inches long.
It can be used as is as a knitting rake, or if you happen to have had a loom face a similar fate, then It can restore your loom to full use!
Make me an offer!! Please add $7 for shipping.  SOLD!!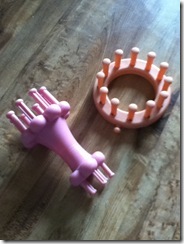 Knifty Knitter Flower loom, and i-cord loom
Make an offer on each separate, or as a set! Add $2 each for shipping!
SOLD!
I think that is it for now!!