I have been so very busy the last two months it is insane! I have knit many project 90% of them I cannot share! UGH! But as luck has it, I have been finishing up some UFO's that are so old I think they were the ones spotted at Area 51.
So I will start sharing those. We'll spread them out so we get some blogging volume out of this!!
First up.. er.. not one of the UFO's but hey that's ok right?
A couple of dishcloths made for the Peace Auction at our church district conference!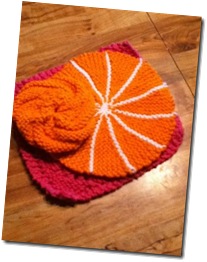 I made the two orange ones the pink one was one from a dishcloth exchange, and I thought a set of 3 would be better so I threw it in!
The knitty gritty: These were done on needles, but the patterns are easily translated to looms for my loom knitting friends.
Here are the links: (click on the pattern names to go to these, they are Ravelry links!)
The little orange tawashi is the Two Tone Tawashi by MaryAnn Walsh. A very easy design, as you can see I did only do one color.
The yarn for this one is Lion Brand Kitchen Cotton Yarn Pumpkin.  I LOVE it! And the best thing is the new ball bands! they have rulers printed on the edges one side inches the other edge centimeters! GENIUS!!!!
The larger cloth that looks like a slice of orange is the Citrus Slice Dishcloth by Bernat Design Studio! Very easy short rows, again easily translated to the loom by alternating purl and knit rows rather than all knit!
I was able to make both cloths out of the Lion Brand cotton with enough left over to make a little cat toy!
Well, more later! Tomorrow I'll give you a peek at my new toy!! A little twist on the KWON!!