Well.. hey this is actually my Finished Friday from last week.. but I had to wait till it arrived in the mail!
This is a hat I made by special request from Keith!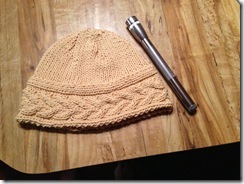 In the picture is the flashlight God gave us.. but that is a story for another day!
For now I am just happy to finally be able to share a project after finishing so many that I couldn't share!!