A little while ago a nice volume of loom knitting patterns landed on my doorstep! It was quite a pleasant surprise!
Sock Loom Projects by Isela Phelps  is a great little book with 15 patterns you can make on a sock loom. And thankfully it is not limited to socks, because generally speaking, I don't do socks!
This book is perfect for summer time knitting! I love to do small projects that I can take along wherever I go and this book is nothing but small projects!!
Both the Original Sock Loom , and the new Sock Loom 2  by Authentic Knitting Board, are perfectly suited for these projects!
I have to admit, it pays to know the author in this case. I was able to get a little sneak peek of one of the patterns in this book before it was out! The Cable Wristers knit side to side are a fun little project, that makes a great fast knit gift! I made a pair for my daughter and she loves them!!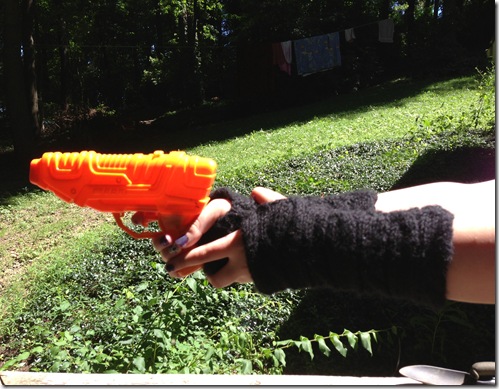 If you are looking for some great projects to get you through the dog days of summer, I highly recommend this book! Knit some gifts now and get ahead of the game for Christmas!!
Next week look for a review of the Loom Knitting Basics book and loom set! I have a feeling there is a little boy around here who might help me with the review!