Category Archives:
Toy Society
Well, I am NEARLY finished with my latest knitting board project which will be produced into a pattern for my shop. I should have a sneak peek for you early next week, perhaps Tuesday with a little free pattern too!
For now, I goofed off at the sewing machine this afternoon, and this is what resulted: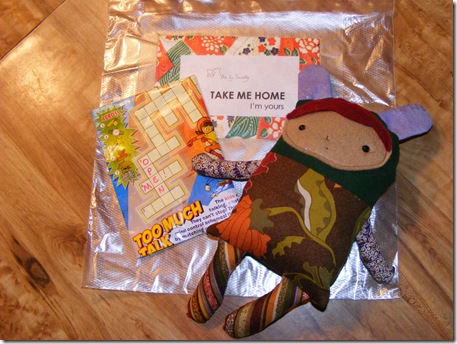 I think that the sewing machine and I have finally come to an understanding. I want it to work well for me, and it in turn is!
This little toy is going to be dropped at an undisclosed location, as a Toy Society toy drop. This is my fourth toy drop.  So far, even though I only know of one toy being found for sure, it's been fun!
I enjoy making these little toys, it gets me and my sewing machine and I cooperating and hopefully brings a little joy to someone out there!