I wanted to pull up the I-cord tutorial for you all again as it is used for two of my sweater projects that are featured in the new Loom Knitting Pattern Book
.
You can find and download the free tutorial by just clicking here!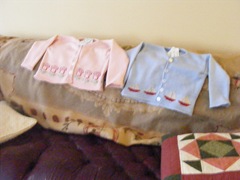 Print yourself out a copy to tuck in the book, and you will have a little extra resource as you work! For full disclosure the I-cord cast on instructions were erroneously left out when the book went into print so here is the text that should be in the pattern notes of both patterns:
I-cord cast on: Make an I-cord the number of rows directed in your pattern. Hold the I-cord behind the pegs of the loom, and parallel to the base of the loom. Using the knitting tool, lift one leg of the stitch on the first row of the 1-cord up and onto a peg from behind. Work up one row on the I-cord, lifting stitches from the I-cord onto the loom. Work two rows of the I-cord, skip one and work two more. Continue in this manner until the desired number of stitches has been cast onto the loom.
You might want to highlight that text, right click on it and print selection and tuck that in your book as well! These things happen but not to fear, we have it covered!
I will be working on an publications page that will have pdf's of the errata from my books so look for a new tab to pop up over the next few days!