I jumped at the opportunity of a sneak peek at More Big Girl Knits: 25 Designs Full of Color and Texture for Curvy Women
by Jillian Moreno & Amy Singer.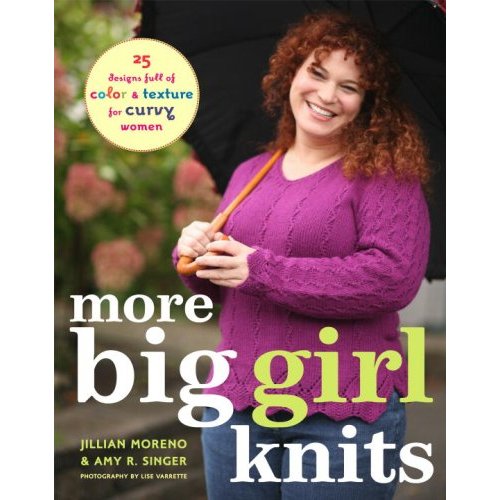 Let me say one thing.. this book RAWKS! This second volume is dedicated to exploring color and texture in knits for 'big girls'.
The first section is jam packed full of style secrets and tips for using color and texture to flatter your figure! Also included is a great measuring guide, including a fill in the blanks chart for you to keep track of your figures, as well as a yarn yardage chart to help you determine how much yarn  you will need to complete your projects.
You also have to love the Pattern ratings:
"Half-Caf (Brain Nudge) straightforward knitting sith shaping
Expresso (modest amount of brain fuel) shaping, color work, mutliple stitch patterns
Triple-shot caffine bomb with whipped cream (all brain cells on full) complex shaping with multiple things happening at the same time"
(Do you think they have that last one at Starbucks?)
Of the 25 designs in this book, there is NOT ONE that I am not jealous of! I would make all of them, and I don't often say that about knitting books!
This one is not quite out yet; it is set to come out on April 1st. But you can pre-order
 it so you can have it ASAP!!