The original plan was to get a copy of The Knitter's Book of Yarn: The Ultimate Guide to Choosing, Using, and Enjoying Yarn
by Clara Parkes at Rhinebeck and get her to sign it. Unfortunately, or fortunately I found that a copy was being sent to me just before I left.
So I waited, and had Clara sign the back of my Blogger Bingo card so I could paste it into the book instead..
It was worth the wait! This book is stunning and informative!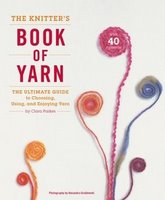 I have read exactly three books this year. THREE! What can I say? I am a busy homeschooling, professional knitting Mom.. read? What's that? So it takes a pretty special book for me to make it all the way through. This book fit the bill.
I couldn't put it down. Clara weaves a tale of yarn that entrances! The subject of the history and making of yarn could be mundane and ordinary, even to knitters. Not so in this case. Clara's writing style makes this a very readable, interesting volume that draws you in. With gems like  this: "Wool in yarn is like restaurants in San Francisco. You could knit a different blend every day for a year without using the same yarn twice." Or this: "Hygroscopic means that the fiber is able to absorb up to 30% of it's weight in moisture while still feeling warm and dry…."  How smart do I feel throwing around my new favourite word hygroscopic, and talking about the fibers I am working with in detailed way.. Thanks Clara!
The publisher says it best in their summary of the book:"The Knitter's Book of Yarn will teach you everything you need to know about yarn: How it's made, who makes it, how it gets to you, and what it longs to become. The next time you pick up a skein, you won't have to wonder what to do with it. You'll just know–the way any yarn whisperer would."
And yes.. there are the patterns! The patterns are written not to a specific yarn or brand, but to the type of yarn and fiber. They are a tutorial in and of themselves of what yarn and fiber will work with what garment. I found my mind wandering to my stash and thinking about what yarns I had, and with what design they would work best. I started pairing up in my mind what designs I had purculating up there in  my brain with what I had available to work with.
For my loom knitting friends, the patterns are definitely doable. Anyone with a nice adjustable loom, and some motivation could translate these patterns into the loom knitting medium.
This book is a must have for knitters, designers and those aspiring to design. It is a valuable volume to turn to when deciding what yarn to use for a project or design. Clara has created the ultimate yarn switching guide!
If this book isn't on your shelf I reccomend you run with permanent marker in hand and add it to your Christmas list!