Well  I have posted this two months in a row on the Ravelry classifieds.. Had two interested persons but no deal..
Thank you Anne! Headed to the post office soon! Enjoy your new gadget!!
So I thought I would try here!
I have an iPod Touch 4th generation, that is in very good condition. It works great, has some scratches on the back, normal wear and tear stuff. The screen is in pristine condition, no scratches.
I would have just posted it on Ebay, but there is an unique feature.. the inscription on the back..
It reads: All your yarn are belong to us!
yep.. its silly I know, but I saved up for months to buy it and I wanted it to be mine!
So, now that I have combined phone and iPod in one in my iPhone, I would like to sell it!
I am looking for $100 + shipping to the US preferably.  SOLD!
It will come with the original box, sync/charger cable, the silicone case, seen in the photos, I will be throwing in a neat little gadget that allows you to broadcast sound to your car radio! It's really clever.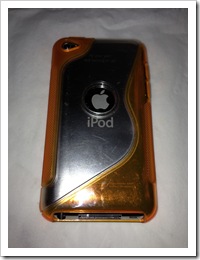 What will not be included: the earphones.. (I just don't think you would want the used ones!) the instruction booklet (Unless I find it after posting this.)
It will be wiped clean with a factory reset, it is updated to the latest greatest iPod Touch operating system ready for you to sync it up and make it yours!
If you are interested please leave a comment, or email me at Denise at knitchat dot com
I can take Paypal payment, or if you would like a check or money order.
Help a sister out! Get a good deal, and add to my laptop fund!!