Well Brian took over Mom's Taxi service tonight! Cause I was not feeling well.
I went to put Julian to sleep this afternoon and I fell asleep! I probably would have still been sleeping till Brian came home but Caleb woke up around 4! The oldest two were taking atvantage of their impromptu afternoon off from school by enjoying Nick Game channel which is on our free preview cable channel this week!
Smart kids! See homeschooling is good!
Well I also took atvantage of my evening off and finished up the sweater!
At least as it is now!
Let's see.. I think it needs some sleeves.. the sleeve holes are just a bit… well um.. revealing!
I will see how it looks after it is run through the wash.. but now I am of the opinion that sleeves ARE in order!
Check it out!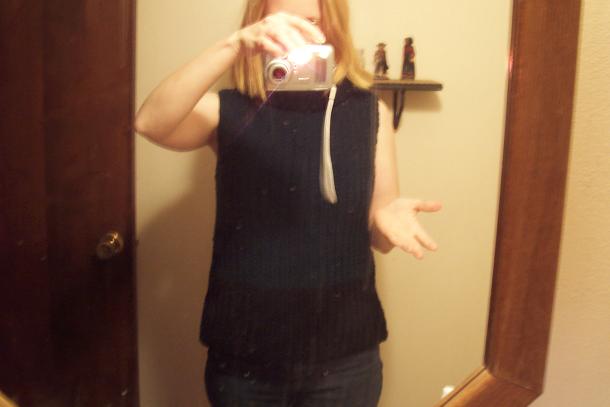 So while he was out.. Brian got some dinner at KFC for us too.. There was a little problem with the order:

Well ok.. that wasn't the real problem, but it sure was a fun one! Yep that's Calebs new shoe! He stepped in the mashed potatoes.. but that's ok, Brian HAD ordered baked beans! Thankfully he hadn't gotten them the first round eh? So he had to go back! I tell you what, I have had more trouble with that KFC than any other place around here! Well I think we won't be going back!