Alright. I worked through that nasty bit of vertigo and got some stuff done!
First the test knit.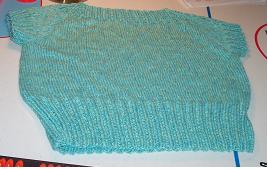 Yarn: SWTC Twize
Needles: US #7 Plymouth Bamboo circs
This nice little short sleeve sweater in Twize. A new bamboo yarn from SWTC. The Twize was great to work with, the only problem I had was trying to get it to cooperate with my ball winder. It just wouldn't, so I gave up and worked from the cone.
The colour is great, it is soooooo soft! I don't know when it will be out but it's well worth it! I just hope they like mine!
The next FO is a Panta for the Panta along!
Panta
Pattern: Compiled by Peggy from patterns on the Craftster forums.
Yarn: Katia Confetti
Needles: US #6 Addis
A great fast knit. I think I will do another one with my Alpaca Silk from Knit picks. I also think I will slip the first stitch of every row, so it won't curl up so much. I might try running Azia's through the wash and see if that tightens it up a bit and helps with the curl along the edges.
Also coming up soon is my blogaversary. So why not have a little contest?
Here is a peek at my next project.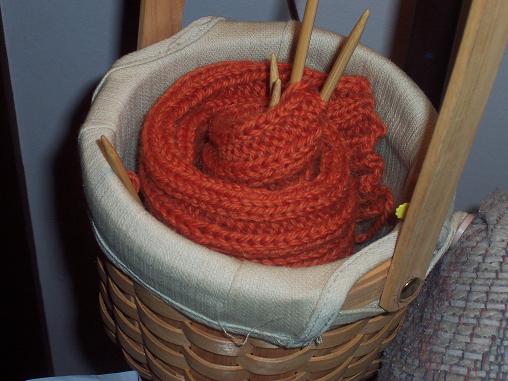 What is it??
I will collect the names of people who guess what it is and pull someone's name out of a hat for a little prize.. so leave me a comment from now until Jan 19 and I will pick a winner on the 20th!
Also keep watching I am hoping to launch Purls of Hope to organize some help for people in need starting with Pearlington, MS. There has been little help there or improvement since Katrina hit and we are nearly 4 months out from it. I will have details there so look for it later this week.
AND… I will need some help with graphics and buttons here for KnitChat.com I will be expanding out from just my blog and hopefully some of you who are more creative than I with the graphics can help!
There might be some nice yarn in it for you!!
So look out! Things they are a'changing!