So far we loom knitters have had the short end of the stick. There are not many pretty glossy new loom knitting books out there. While needle knitting, crochet and other fiber arts books overflow on the shelves at our local book stores, you just don't see any loom knitting books! Well slowly but surely we are getting ours! Yep there is yet another loom knitting book coming out.. but you have to wait till October!
Well thanks to a tip from Isela here is some info on The Quick and Easy Loom Knitting Set
.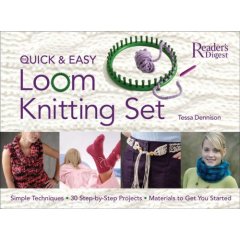 Weighing it at 128 pages with a hard cover it looks like it could be promising. It's put out by Reader's Digest and I generally find their books to be really good! It lalso looks like it will be a kit perhaps a loom and some yarn. Who doesn't need another loom and some yarn to add to their stash??
I personally will be digging into this
: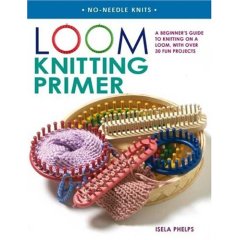 this weekend. A Yoga Mat Bag to carry my new pink softball bats in will just fit the bill!! Woo Hoo!! Add a little buttoned loop at the top to hold my glove and it's softball with style!
There is also another project screaming to be made..the window in our walk in closet needs something..so out comes the knitting board to the rescue.. just wait till you see what happens with this one!!! Brian bought some supplies for this project a long time ago and he will be saying it's about time!! However there is one more thing I need to get at the store to make this little project happen.. stay tuned!
Another window that needs an upgrade is the one in front of you, I am working on a blog makeover so if you see something weird or wonky or get a sneek preview of my new look well pay no attention to the woman behind the curtain!