Well I was asked by Kathy Z. how to make yo-yo's on the knitting loom so here goes.. it's easy!
For my example I used a blue Knifty Knitter loom and I used a worsted weight wool yarn.
Cast on all stitches and started working in the round. You can do the twisted knit stitch (aka, e-wrap) or the flat stitch if you like. In my example I did 12 rows.
Take the tail at the cast on end and string it through the stitches on the cast on edge and pull it to gather.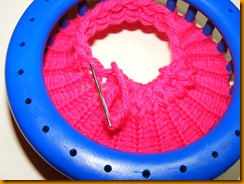 It should look something like this: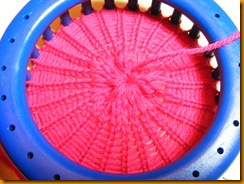 The next row, purl the entire row. This will be the outer edge of the Yo-Yo
Knit an equal amount of rows as you did before the purl row, in the example, 12 rows.
Bind off using the gather bind off method.
Secure the ends and then poke your yarn end through the center to the other side.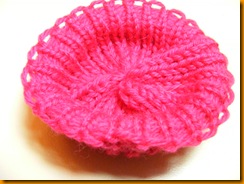 It might look something like this. Go grab your pins!!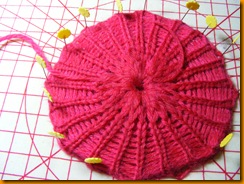 Give it a little wash.. pin it out and let it dry! Check it out.. you can turn it into a square…
If your #of stitches is divisible by 4..or an octagon if they are divisible by 8!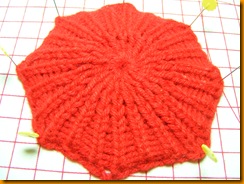 Just make a bunch, seam them together along those edges and make a blanket, placemat.. or whatever you can dream up!
Use them alone, they make a great coaster!!! Just be sure to use natural fibers like wool, or cotton because if you put it under a hot cuppa cuppa you don't want your creation to melt!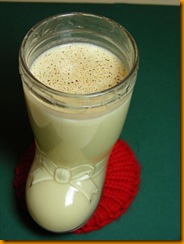 Gotta have my eggnog!
Here are some more ideas of how to join those little yo-yos and what to make with them!
Some tips and recommendations:
I do recommend use of wool or cotton etc.. as you can block these and mold them to the shape you want more easily than an acrylic yarn.
you will want to play around with the number of rows used to make the yo yo, especially if you are using a different size loom, or different weight yarn. The rule of thumb seems to be that you knit about half of the amount of rows as there are pegs on the loom. That gives a good place to start.
HAVE FUN! It's only yarn! You can unravel it, and try again till you get the results you are looking for.
Don't forget to send me some pictures of your creations!!