Classic Knits at Home: 15 Timeless Designs to Knit and Keep Forever
 by Erika Knight is a great little book full of projects to make your home sweet home… sweeter! As soon as this book hit my desk I was hooked. The first project that struck my eye, was the Houndstooth Cushion pattern. I have been looking for a good oversized houndstooth charted pattern and this fits the bill. My friend came over and was drawn to the patchwork throw, which is the cover design. This pattern is a great sampler pattern! It covers many different stitch patterns, in each of the hexagonal patches, and pairs up quilting and knitting, a crossover that is quite common among crafters.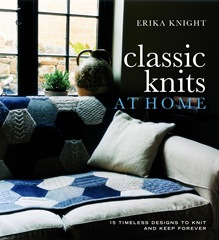 The patterns are well written and suitable for knitters of all levels of experience. The photos make me dream of curling up with a nice cup of tea while cuddling under one of the many throws in the book.
There was one project that made me pick up my needles and cast on immediately.. don't laugh; it was the door stop!!  I need one! I have needed one for ages, and what better doorstop to have in a knitter's house than a cute knitted one!!?! This one fit the bill, quick easy simple and it works!!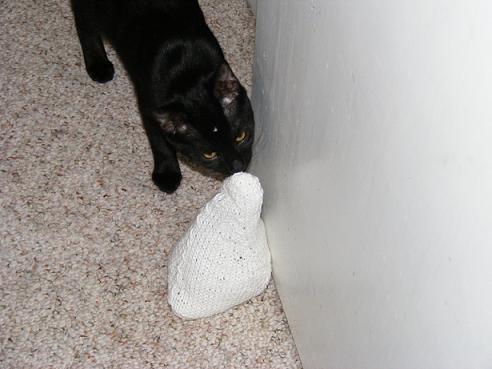 For my loom knitting friends.. this book is totally doable! Of the 15 patterns in this book, 14 are absolutely translatable to the looms! Since this is a book full of household knits, gauge is not as essential, and for many of the patterns you can run a swatch and fiddle a bit with the numbers to end up with the dimensions you want! If you are looking for a good book with ideas for the home I encourage you to check this one out!
Overall this book is full of beautiful, timeless,  classic knits for the home, that are sure to become house favourites!
Next week: the book that made me go SQUEEEEE!