Well last week I promised you the book that made me go SQEEEEEE!!! When this one hit my hot little hands I knew we would be friends!
Remember this?: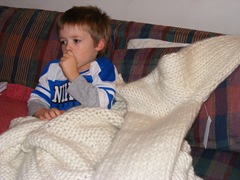 Well enter it's match! Twinkle's Weekend Knits: 20 Fast Designs for Fun Getaways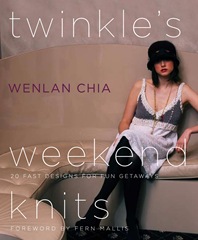 Wenlan Chia fashion designer/ knitting designer has done it again. A book full of knits with her signature chunky yarns. Talk about a quick knit! I had two sleeves  of the done in two hours! Unfortunately, I had another project take priority or I would definitely be showing you a finished object by now!
This book is broken up into three weekend  getaway categories:
Friday Night: Twinkle through the night.
Saturday Morning: Fun alfresco!
Sunday Afternoon: Last night away.
Friday night is filled with knits for your night out, a lace wrap, a sexy cowl neck tunic, and even hanger covers for unpacking for your weekend getaway.
Saturday morning is all about fun in the sun!  Sweaters for relaxing and even a cozy for your iPod!
Sunday Afternoon includes some more complex designs in serene color palettes, the cloudburst cardigan is sure to be an eye turner, and some interesting techniques like feather and fan stripes, knot ridge stitch, and a wrapped yarn increase add interesting details to the pieces in this section.
All in all I love this book. Wenlan's bulky knits are not for everyone, but I like the bold look and the quick results, and there are also knits in finer weight yarns that are sure to please.
The book is set to be released next week, so look for it in your local bookstore, or you can always preorder!!
Just a little note if you get the show Knit and Crochet Today on your PBS station they did an interview with Wenlan Chia in episode 105, their cables episode. You might want to check it out!