Chances are if you are reading this blog you have a computer. And chances are that if you have a computer you have a similar problem to me! A whole bunch of oversized power adapters that just will not fit in the plugs of one power strip.
See what I mean?
 That's to plug in our three school computers and two printers. I can't even get the third printer plugged in!
So just how do you take care of this problem?? Do you rotate plugs as you need your different gadgets? Who needs the monitor when you are printing? hehe
Or do you just plug in a second power strip to accommodate all those oversized adaptors? Well here is your solution! I just stumbled across this today!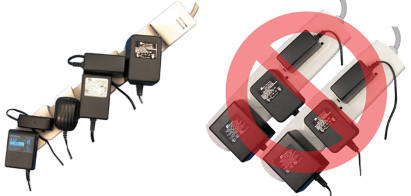 Isn't that a thing of beauty? I think it is just about the best thing to come along since sliced bread and the adjustable knitting loom.. but then.. I might just be showing my geeky gadget girl side a little too much here!
If you have a geeky gadget girl side too you might want to check out the blog :  PopGadget: Personal Tech for Women   NO BOYS ALLOWED!!!