If you will recall, among the pile of books I had lined up to read was Mary Thomas's Book of Knitting Patterns
. This one is an oldie but a goodie. You can tell from this book that Mary Thomas was a very organized person. I am almost certain she did not suffer from knitting ADD. I can just see it now everything in order and lined up etc etc. I say this because of the excellent organization of this book.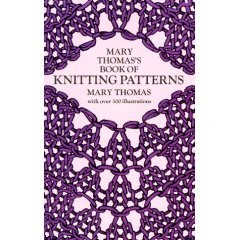 Mary Thomas gives us a progression of knitting techniques and then applies them to patterns in the book. Each item and skill builds upon the previous one.
This is a great book for beginning knitters to work through. I highly recommend it!!
And here is a flower I made on my knitting loom for you from Mary's book for Valentine's Day!! Have a good one!