Well what can I say? It's Friday. I don't have a finished object to show you, but I hope I will soon. I have picked up the Pi Shawl and have been working on it. It is just what the doctor ordered. Semi mindless knitting. The geometric pattern of the lace is easy to follow so I can just do it visually. My Mom's birthday is in early March. I might make it. I am in the last section!! Then I have to decide on an edging. I think I will copy Kelly and do the edging from the Spanish Christening Shawl in the book Folk Shawls by Cheryl Oberle.
Keep routing for me!!! At least I need to finish it before we go to Hawaii in May (oooh what you say? More on that later!)
Azia did finish something this week! She passed level 1 of the United States Figure Skating Basic Skills Program!! Go Azia!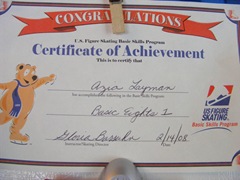 On to level 2 next week!  And she is very happy with her new skates! I am so impressed with the improvement she has made since she started!
In the mean time, since I have nothing knitterly to show you…
White?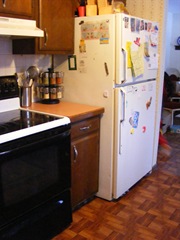 Or Black???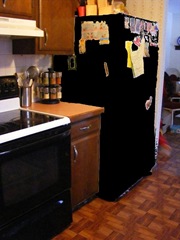 Waddya think?