On Sunday March 2, at 5:30 PM est I am planning to have Lynn Markman as my guest on Knitting 911!
We will be talking about loom knitting, and will be taking your questions live on the show! So if you have a loom knitting question that you want to ask please join us!
I wanted to make sure everyone knew how to access the live show so here we go, a little tutorial.
First of all the show is online at BlogTalkRadio. It is best if you register as a listener, that way you can also join in the chat and ask questions there if you don't want to call in!
So click here, and it will take you to the site. Once you are there you will see a create account link at the top center of the website page. Click on create account and you will then be taken to a page where you will see this..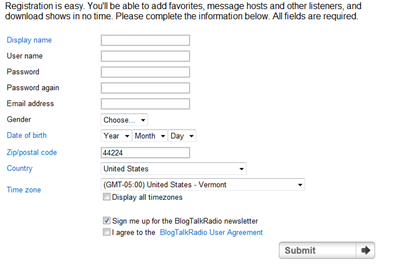 Enter in your information, be sure to uncheck the sign me up for the newsletter box.. unless you want the newsletter and submit..
Once you have chosen and submitted your username you will go here: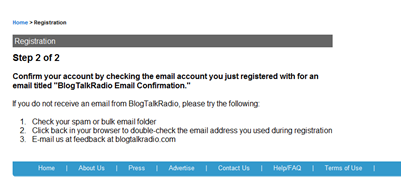 You will then receive a confirmation email and will need to follow the directions on that email to confirm your account.
Then on Sunday at 5:20ish go ahead and sign in at the BlogTalkRadio site and use the search box to search for Knitting 911. You will come to a page where the episodes are listed.. and you should see Episode 3..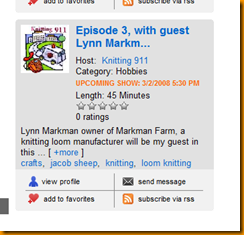 Simply click on the title of the episode and you will be taken to the show site where you will be able to chat live with Lynn and I and other listeners, and listen to the show!
It's that easy! I would love to hear from you either in the chat or on the phone the phone number will be given on the show site, and I will also give it during the show. I think I am going to bump the show up to 1 hour ( it is now set at 45 minutes) so hopefully you can all get in to listen!