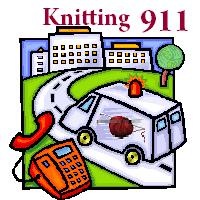 I am not going to be able to do an episode of Knitting 911 this week, due to the fact that the event that was canceled last week due to the weather, is happening this week!
Got that? Yes? Good!
In the mean time.. if you haven't had the chance to listen to the last episode with an interview of Lynn Markman please do!! Simply click here and the episode will play!
Enjoy! And I will have a new episode up soon with plenty of warning so you can call in, and join in on the fun!
Off to do another row on my Pi shawl edging.. only 8 to go!