Happy Pi Day to all! When I asked my students at the co-op today what the most delicious number was they said 9! Naturally because 7-8-9 it must be tasty right?
But no.. the most delicious number is Pi!!
I was hoping to have a Pi Day celebration and a big Pi Day finish for my Pi shawl (seen here lounging on our picnic table on the shores of Lake Tahoe)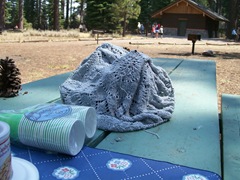 But I am 10 rows away from the finish line! And with 576 stitches per row, I don't think I will finish today!
But the finish is sooo close, I can taste it!!!! Yummmy Pi!!!