I just came across this artwork.. a lamp that knits itself!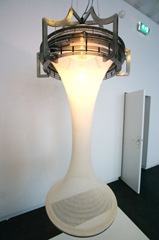 Quite intriguing.
"A lamp that develops like a living organism: switch it on and it slowly starts growing by knitting its own lampshade at a speed of three rotations per hour."
You can see the whole exhibit here: Click Here. Though the rest does not have knitting I like to look at art so I share it with you!