Have you ever been at a fiber festival and seen some lovely hand spun yarn and ultimately decided not to get it because you just weren't sure what you would make with it? Or do you love to spin, but then don't know what to do with your own yarn? (cough, Ashley, Cough)
Many moons ago, my Mother gave me some lovely hand spun yarn she had bought at a local festival. It sat forever in my stash. Some how hand spun gives some knitters knitter's block and that is what this yarn did to me! It wasn't until I found a 100 year old loom knitting book that I decided that the yarn was perfect for a stitch found in that book!
Well luckily for you, you don't have to go searching out old books to find the perfect project for that hand spun yarn that catches your eye.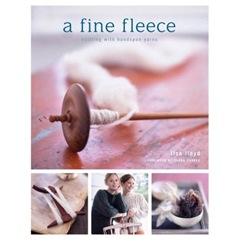 A new book A Fine Fleece: Knitting with Handspun Yarns
by Lisa Lloyd is the go to book for this purpose. Lisa gives descriptions of many different fibers and their qualities by creature, also giving tips as to what sort of project each is suited to. She also gives tips to spinners on choosing and spinning the yarn with a particular project in mind.
The patterns are broken up in to different categories exploring themes:
Light and Shadow: Studies in Contrast
Forest and the Trees: Scale and Perspective
Conceptual Stitches and Emotive Design
All the patterns are beautiful. I don't think there is one that I wouldn't like to do given the time.
My first impression  of this book was to think it would be another 'knock off' of The Knitter's Book of Yarn
, but it is far from that. It is definitely a companion guide for spinners that can stand on it's own!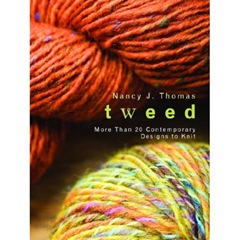 The second book Tweed: More Than 20 Contemporary Designs to Knit
by Nancy J. Thomas. This is a nice little volume devoted to the tried and true yarn that is tweed.  I know that tweeds often throw off people. They don't quite know what to make of it, or with it. It is so thoroughly engrained in the weaving side of things that often knitters do not consider it.
This book will definitely change your opinion and give you some great history of tweed, as well as some great knitterly things to do with it!
I know my biggest fear with tweed was that I thought that I would have to just do miles and miles of stockinette, I thought that any pattern stitches would get lost when worked in a tweed yarn. Nancy quells this fear, by giving great tips on pattern stitches with tweeds and then goes on to give  a boat load of examples of stitch patterns that work with tweed. All in all this is a great little volume and would be a great addition to any knitter's library!
And my loom knitting friends… This one is coming soon…
!!! I can only say right now that I know it has 3 great designs in it by someone you know well ..hehehe oh .. well ok… I am sure they are all great!