Trying to get ready for Knitter's Fantasy on Saturday! Have to get up super early! eek! I am donating my Heart Hat to the caps for kids so I FINALLY wove in the ends and blocked it!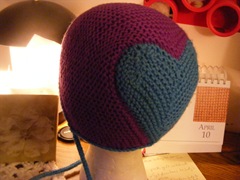 Also trying to get ready for co-op tomorrow! Multiplication mania! I have some fun games but my multiplication flash cards have gone AWOL! YIKES sure don't want to make them tonight! I sure hope they turn up!
I have been making progress on the front piece my hubby's sweater! It's nice to switch to size 11 needles after crocheting with a B hook!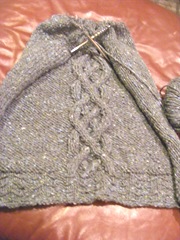 My right hand has had some extreeeeeeme pain the last two days! Misery! It extends from my elbow down to my middle and ring fingers. The pain is constant and then shoots down through my fingers.. this has happened before. I figure it must be how I am sleeping..