Let's see.. first my friend Karen is starting a new loom knitting pattern blog! GO check it out! She is having a little contest to make it worth your while!
Let's see next! I see a lot of people have sponsored Isela's ride for MS! She has had some help from some friends to sweeten the pot with a few more prizes!! So if you haven't donated yet you should! There are some pretty great prizes in that lot! There is a link to her sponsor page down on my left sidebar(Go ahead use it just to amuse me.. I wrote the code myself!!AND it actually works!)
Check out my new digs!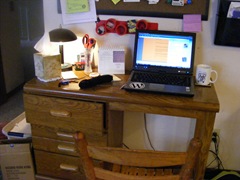 I got this desk down the street and it was FREE!! Love it!! And even better…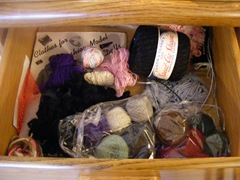 A drawer full of free yarn! Ok.. it' didn't come with it, don't go getting that excited! Most of it was sent to me by Marlene in Maine!! Thanks Marlene!!
Tomorrow will be fun! Knitter's Fantasy has arrived! This year I am not teaching, I was some how missed on the list, so I get to just enjoy and take some classes myself! AND I have $10 gift certificate for one of the vendors from back at the Guild Christmas Dinner contest! Cool!
Hmm what else? Oh yes.. while I was off teaching at the co-op this morning a package arrived from Hong Kong! My second Blythe Doll Mod Molly arrived! She will need a name! Though she might just stay Molly!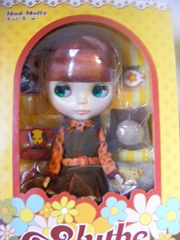 (Are you tired of my dollies yet? ) Ya'll know what that drawer full of yarn is for now!
Last but not least, Bethany is starting a Loom Along for my Pinwheel Blanket! Cool!
I think this is the first official Loom Along with one of my patterns!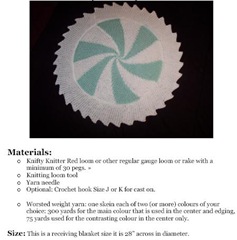 You can join them here: Getting it Pegged Yahoo Group.
Well, off to pack up my supplies for Knitter's Fantasy. I might have to get up at 5 a.m.! Yikes!