I love popping in on my blog and looking at the Feedjit map on the side bar.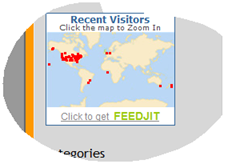 It's fun to see the little dots pop up here and there around the globe that show me where you are visiting from.
But that doesn't tell me much about you! I'd love to get to know who is reading my blog! So answer me this:
Who are you?
Where are you from?
How did you stumble upon my blog?
Do you have a blog? (I'll stop by and leave you a comment or two!)
What would you like to see on this blog in the future?
Leave the answers in the comments, and hey maybe even leave me a question or two!
In any case, thanks for stopping by, this blog wouldn't be the same if it weren't for you reading it!
Edited to add: Hey BTW, if you are on Twitter, let me know so I can follow you! Or you can follow me!!