I have acquired lots of little odd balls of yarn lately.

This leaves me with a little dilemma. Just how much yardage is it that I have here! As a designer it is important to let potential users of my patterns  know just how much yarn they will need to knit up a pattern! As a knitter it is important to know how much yarn you have so that you are confidant that you will not run out before your project is done!
You might not have a whack of odd balls like I do; but let's face it, we all have yarn in our stash that has been separated from it's label or even some 'vintage' mystery yarn that we picked up here and there. So just how do you determine how much yarn you have there?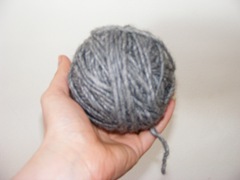 It can be easy and low tech or you can get fancy..
In your LYS or online yarn shops there are often advertised little yarn measuring devices like this: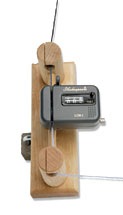 These are nice and vary in price from about $40.00   to $70.00. You grab it, clamp it to your work table and run the yarn through it  typically between your skein winder and ball winder and go go go. It's quick, easy and pretty darn accurate.
You really need to use a ball winder at least with this gadget for it to work really properly.
Of course if you are concerned about the price of the 'commercial' models you can always opt for your own low cost version. The 'yarn meters' are typically fishing line meters that are available at your local sporting goods store, that are mounted on a wooden yarn guide and clamp set up. I asked my husband to see if they were available one day at our local sporting goods store and rather than just scouting, he came home with one! So for about $15 I had my yarn meter! (and it even lights up!) I just clamp it on an unsuspecting chair placed between my swift or skein of yarn, and my ball winder and measure away!
Now, if you don't like all that fancy winding, and spinning and all there are some other options for you.
The wrap method..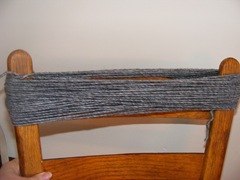 This has been the method I have  typically used to measure any mystery yarn in my stash. I usually grab one of my kitchen chairs and turn it upside down. I measure around the legs, make a note of the measurement and start winding!  Or I just wind it around the back of the chair.. works just as well..
I count how many times that I wind the yarn around and then do a little math magic to figure out how much yardage I have. In my case, the measurement around my chair top is 31″, so at 75 wraps around it, I have 2,325″ of yarn. If I divide that by 36 (you know 36 inches in a yard..) I get approximately 64.5 yards!
You can also do this with a piece of cardboard. Easy Peasey and better yet! FREE!
The Niddy Noddy: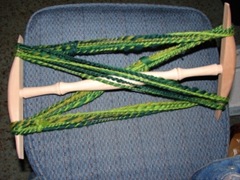 I will admit to having bought one of these.. this is typically a tool spinners use, and while I have temporarily given up spinning till I get a wheel that is more suited to me, I will keep the niddy noddy. I have however yet to use it!
Knitter's Review did a little piece on using niddy noddies to measure yarn.
And here is a nice piece on the general use of a niddy noddy.
So if you have one and haven't used it hey, there you go!
There are some interesting mathematical methods for figuring your yarn by weight and all but hey I like to do as little math as possible!! So pfft!
I hope that you have found a method here to use for measuring your mystery yarn!
Till next How To's Day, keep on playing with that fiber!! And if you have any questions you want me to cover, let me know! Just leave me a comment!