Ok. This project is FUN!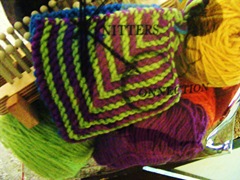 Here is my little swatch. And I needed it! I can tell you that. I really should have done part of it with stripes too. Would have saved me a little lesson, and frogging when I started the stripes on the real piece.
Did I mention this was fun? I actually threw out the red, there were just too many colour choices so I am keeping it to 5.