I don't know about you, but I have to admit I have some mystery yarn in my stash. It has come from different sources. Given to me, yard sale finds, or simply I just lost the labels and I don't remember what it is any more!
So just how do I figure out what weight it is? I am constantly mistaking worsted weight for sport weight and so on. I just don't seem to have the internal instincts to determine what weight/gauge a yarn is by just looking at it!
So I have to rely on more scientific means!! One of the best ways to determine what weight/gauge a yarn is, is by using WPI, wraps per inch. This is something that spinners do all the time. It's pretty simple. You wrap your yarn around something and see how many wraps it takes to make an inch.
Sounds easy right? Well there are a few pointers.
Don't use a ruler. It may be tempting but it is not the best tool for the job.
Use a round object like a round pencil, a dowel, or a broom handle.
Don't pull the yarn tight. It should be wrapped loosely so it is just like it is in the ball or skein, if you pull it tight you will stretch it lengthwise, which will cause the yarn to measure out thinner than it really is.
This little chart will help too, it gives the general rule of thumb for the WPI for different weights/gauges of yarn:
Type
WPI
Standard
Symbol
Lace
18 or more
Sock/Fingering
16
Sport
14
Worsted
12
Bulky
10
Super-Bulky
8 or less
So here we go!
Here is one of my mystery yarns..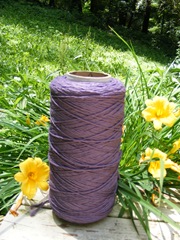 I picked it up at a thrift store a while back, and have no idea what gauge it is. My guess is super bulky. Let's see if I am right. I grabbed a dowel I had sitting around and marked it off in 1 inch increments.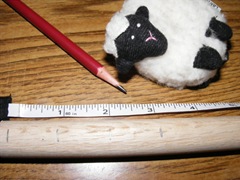 Wrap the yarn around, remember to do it loosely!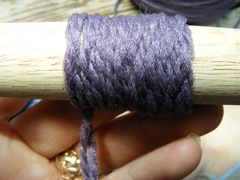 And count! 8! So it turns out I was right in this case! I bet I could make a hammock with this big honking bunch of yarn!
Just for fun let's see what this cotton yarn tells us!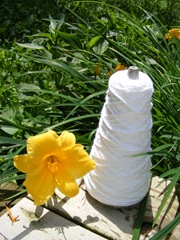 Wrap loosely and count and…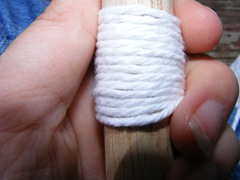 14, well.. 13 actually which would make it a light worsted! What it should be!
So I hope this helps you out a little next time you have some mystery yarn! And don't forget to check out my tutorial on measuring how many yards of mystery yarn you have!! Just click here! Put them together and you will know what weight/gauge mystery yarn is and how much of it you have!! So you can match it up to a project and start cleaning out your stash!! (Your significant other can thank me by sending me chocolate.. just email me for mailing address..)