I was totally surprised to see copies of the new book Loom Knitting Pattern Book
prominently displayed at my local Joann's store the other day..
I was equally pleased to see it in my Crafter's Choice email..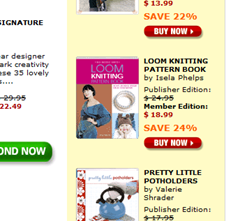 Cool eh?
Now I have some Tuesday To Do's to do.. so keeping with the every other week schedule of How To's Day.. I will have a new tutorial up next week!
Till then you can always look back at old ones on my tutorials page.. just click on the tutorials menu item up there under the header!!